1) Maybelline Great Lash Mascara
Why we love it: This classic has been thickening lashes since the '70s with its signature,
easy-to-handle narrow wand and clump-free formula that resists smudging but washes
off in a cinch. Iconic status: completely deserved.
2) Maybelline New York Volum' Express Classic Curved Brush Washable Mascara
Why we love it: One reader says this product "opens [her] eyes" so much she can sometimes "ditch the curler." Another reader has been a loyal product user for five years, stating, "I love this product. It is possibly the best mascara I have ever used." Another agrees, saying, "I have tried loads of different kinds of mascaras over the years and I keep going back to this one! This is the best I have ever used!" Readers testify to the "wow" factor of this mascara, with one stating she was "completely shocked" because it made her eyes so "dramatic." She admits, "My friends are always asking me what type of mascara I use to make my eyes pop out so perfectly."
3) AVON WASH-OFF WATERPROOF Mascara
Why we love it: A reader says this mascara "coats, defines, gives you nice color, and doesn't smear or flake." This "waterproof AND washable" formula will "weather the weepiest of movies," but remains "easy to remove with soap and water." Readers like it for an "everyday look" because it's "very light." One reader said, "It does not even feel like I am even wearing mascara."
4) Avon SuperFULL Mascara
Why we love it: Readers say, "This mascara went the distance and left no smudges, flakes, circles — nada. And at the end of the day it came off easily with makeup remover." And those with oily skin say, "I have very oily skin and this mascara makes me look like I have twice as many lashes as I do and makes them extremely long, without smudging or pooling under my eyes halfway through the day!" Readers conclude "SuperFULL is the truth" and say it's "the only mascara for me." One woman asks, "Sparse lashes? No problem! I have very pale, sparse lashes, but with this product (in black), my lashes look fuller and longer than ever!"
5) Maybelline New York Full 'N Soft Washable Mascara
Why we love it:  "I get soft, long lashes every day and don't have to worry about reapplying after my workout because the waterproof version works so fabulously," one reader raves. Another devoted consumer says, "This has been my favorite mascara for 10 years. I've tried others, but I always find myself coming back to Full 'N Soft. The brush is superior when it comes to lash separation and volume-building, and the formula doesn't clump, flake, or smudge." And another plus: "It also holds a curl from an eyelash curler like no other mascara, leaving your eyes looking wide open," one reader says. To sum it up, "It makes your lashes full, while remaining soft," just like the name implies, readers say.
6) L'Oréal Paris Voluminous Mascara Carbon Black
Why we love it: "I love, love, love this mascara! It is absolutely amazing," says one reader. Readers like this mascara for its color, an "intense black, which is not very common for drugstore mascaras." Several readers agreed that it gave the impression of false lashes, and one reader stated, "I had multiple people ask me if I was wearing false lashes when I wore this." Other pluses: the "full brush," "creamy" formula, and it "doesn't smudge or flake throughout the day."
7) Maybelline New York Illegal Lengths Fiber Extension Mascara
Why we love it: If you're looking for length, this is the mascara reviewers recommend. After applying a coat or two, readers said their lashes looked "great and flirty," "super long, but still natural-looking," and "thicker, darker, and longer." More than one reader has found that this mascara "looks like false lashes," even eliciting "are those your real lashes?" comments from others — the ultimate in eyelash compliments. Says one user: "I usually have to use like three different mascaras to get the effect that I want, but this one does the job!"
8) Maybelline New York Volum' Express The Colossal Cat Eyes Mascara
Why we love it: A mascara that comes in a fun animal print tube and delivers results on the cheap? Consider our readers fans. Like many mascaras, this one claims to give you that falsies look — and according to one user, "this mascara really does." A self-proclaimed "mascara junkie" confesses that she bought this by mistake, but proclaims, "it is the best mascara I have ever used! It gives me long, full lashes and doesn't make my lashes clump together like so many do." The same user says that with three or four coats, she gets "va va va voom lashes!" Another reviewer applauds the curved brush because it "really gets to the lashes in the corner." She says that with two to three coats her lashes "go from zero to 60!"
9) Physicians Formula Organic Wear 100% Natural Origin Jumbo Lash Mascara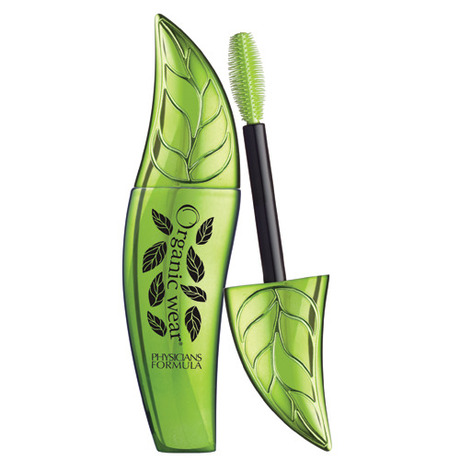 Why we love it: One reader bought this mascara because of its natural ingredients (47 percent of which are organic) and its eco-friendly packaging, but kept it because it's a "great mascara" that reportedly makes lashes "much more prominent" and "gigantic and gorgeous" without crumbling. One reader revealed that she normally has an allergic skin reaction to mascaras, making buying mascara a "tricky business." After trying this product, she says, "This mascara doesn't give me an allergic skin reaction or irritate my eyes. I can put it on generously and be comfortable all day!" Another admits that though she was skeptical of a "natural" mascara at first, when she tried it, "my lashes were bigger than when I use Benefit BADgal and CoverGirl Lash Blast combined!" Another reader gushes, "I have never been this obsessed with a mascara from the first use. My lashes are suddenly gigantic and gorgeous, it's like my eyes just appeared. I swear it doesn't even feel like I am wearing mascara."
10) Revlon PhotoReady 3D Volume Mascara
Why we love it: Users describe this mascara as a "Revlon home run," giving it an all-caps "AMAZING" shout out. They love how this mascara doesn't get clumpy as you apply more coats — even up to "five or six passes," according to one self-professed "mascara addict." Readers attribute the buildability of this mascara to the "exceptional" brush, which has "enough bristles to color and highlight each and every lash." The true test of a drugstore mascara, as any product junkie can tell you, is the crunch factor. If a mascara leaves your lashes brittle and unhealthy, it doesn't matter how much volume it provides temporarily. Revlon pulls through, with a reader testifying that her "lashes remain pliable — not crunchy." The ultimate compliment for a drugstore mascara? Identifying its high-end counterpart: "The formula is a bit wet, so it glides on quickly and doesn't clump. It's almost like Shiseido Perfect Full Definition," says one reader. At less than one-third the cost, Revlon Photoready 3D Volume Mascara is a bargain buy that delivers high-end results.